Posted on Wednesday, November 18, 2020 09:09 AM
Cornwall & The Counties Community Futures Development Corporation is pleased to announce that through the Regional Relief and Recovery Fund (RRRF) provided by FedDev Ontario we have contracted a bilingual, temporary, full-time COVID-19 Business Relief Advisor to assist business owners throughout Akwesasne, Cornwall, and the United Counties of S.D. & G. Her role will be to help applicants navigate all the programs available for support through the hardships of COVID-19.

This new team member...
Posted on Thursday, August 20, 2020 02:59 PM
South Stormont, ON - The Township of South Stormont has received a vote of confidence from the Board of Directors of the St. Lawrence Parks Commission (SLPC) after they have approved a conceptual vision for the development of strategic waterfront locations.
The Waterfront Development Plan presents an opportunity to strengthen the partnership between the Township and the SLPC while providing improved access and enhanced recreational opportunities to the waterfront for residents and visitors.
"The...
Posted on Wednesday, April 13, 2022 09:41 AM
The Township Office will be closed on Good Friday (April 15th) and Easter Monday (April 18th).
A few important reminders:
Garbage and recycling collection on Good Friday will be delayed until Saturday, April 16th.
There will be NO CHANGES to garbage and recycling collection the week of Easter Monday.
Trillium Road Landfill will be closed on Good Friday
On behalf of Council and Staff, we wish everyone a very happy and safe Easter Weekend!
Posted on Tuesday, April 12, 2022 04:08 PM
The Canadian Food Inspection Agency (CFIA) has confirmed cases of highly pathogenic influenza (H5N1) in Ontario.
Ontario Minister of Agriculture, Food and Rural Affairs Lisa M. Thompson has issued a Minister's Order under the Animal Health Act, 2009 for the purpose of limiting the commingling of birds from different locations in Ontario, in order to reduce the likelihood of disease transmission in domestic birds by limiting direct contact.
Effective April 9, 2022, this Order temporarily...
Posted on Wednesday, November 03, 2021 02:48 PM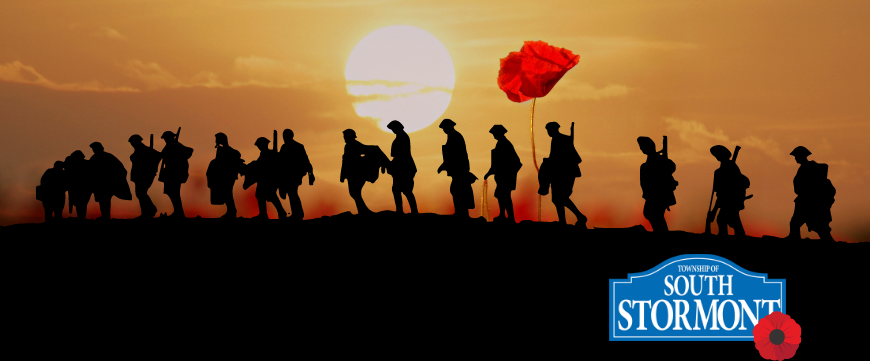 Each year, the two local branches of the Royal Canadian Legion that service the Township of South Stormont host ceremonies to remember the brave men and women who served for their country and paid the ultimate price. Below are the scheduled ceremonies for the Long Sault Legion Branch 569 and the Finch Legion Branch 357.
Long Sault Legion Branch 569:
The Long Sault Legion Branch will hold their annual Remembrance Day Ceremonies on Sunday, November 7, 2021.
At 9:45 AM, a scaled back parade...