Posted on Monday, May 03, 2021 02:15 PM
The Township of South Stormont will receive funding through the Investing in Canada Infrastructure Program (ICIP) that will help see six park improvement projects come to fruition across the Township. In total, the ICIP funding will cover 74% of the project costs.
Grant #1: Play Structure Upgrades at MacLennan Park in Rosedale Terrace and Arnold Bethune Park in Long Sault. (These projects to be completed in 2021)
The current play structures at these parks will be removed and replaced with new equipment,...
Posted on Wednesday, April 21, 2021 11:17 AM
Due to the recent announcement from the Province of Ontario, South Stormont's baseball diamonds, tennis courts and picnic tables are now closed. Indoor Recreation Facilities continue to be closed as well. Play structures, open park space and the Recreational Trail will remain open.
Only visit these areas with people from your own household and physically distance from others using these amenities. For more information please view the full list of restrictions here: https://covid-19.ontario.ca/zones-and-restrictions
Posted on Thursday, April 15, 2021 01:31 PM
South Stormont Council adopted a new Community Strategic Plan during the Regular Council Meeting on Wednesday, April 14, 2021. The Community Strategic Plan will help guide future staff recommendations and Council decisions.
With the expiration of the previous Strategic Plan in 2020, along with the significant growth and development the Township is experiencing, Council and Staff prioritized establishing a new guiding document to ensure a progressive and responsible trajectory for the community.
"The...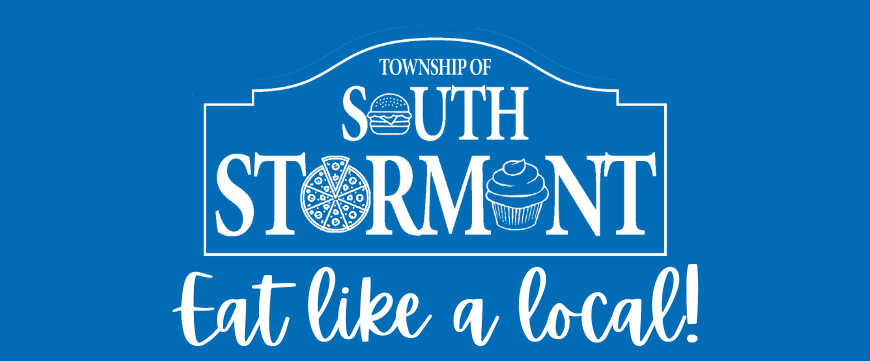 Posted on Wednesday, April 14, 2021 11:25 AM
The pandemic and the associated lockdowns have had an affect on all of us, including our local eateries.
Restaurants have been restricted to takeout and delivery service only, and are undoubtedly feeling the pinch of a year-long rollercoaster of restrictions in place that have affected their ability to earn and serve the community.
Many of our local restaurant owners are proud supporters of the community, and we are encouraging our residents that to support these important local businesses...
Posted on Monday, March 29, 2021 10:55 AM
On Wednesday, March 24, 2021, Council for the Township of South Stormont formally adopted the 2021 operating and capital budget for Corporate, Water and Wastewater purposes. After budget deliberations held on March 6 and 16, the 2021 budget represents a 1.85% tax rate increase from 2020.
"Every budget presents its own challenges," states Mayor Bryan McGillis. "This year, we had to consider the impact of the pandemic on our residents, but also on the Township itself. We feel we have produced a budget...